Welcome to our homepage!!
This is Hachidai Sasaki, the CEO of Sasaki Industries.

Our company is a company that plans, designs, manufactures and constructs products using steel while focusing on High Quality, Service and Innovation.
We handle wide range of products, such as bridges, steel frames for buildings and also solve "problems" where our customers are having a hard time. We are very open to challenges

Although Our Company has a history of over 50 years, the average age of our employees is 34 years old, where many foreign nationals are also actively working.
The company I aim to create is a company where everyone can work regardless of race, religion or gender while providing career growth plan, a safe work environment and encouraging a healthy lifestyle.

We aim to grow as a company that can contribute to society and the community with a power that just not rely on existing ideas but also with the new ideas from our employees.
I am really looking forward to meeting people with a lot of ideas and a very positive way of thinking and together break boundaries!

Sincerely,
Hachidai Sasaki, CEO

Company Profile
Company name
Sasaki Industries Co., Ltd.
Head Office
730-0036
5-28, Fukuromachi, Naka-ku, Hiroshima-city, MAP
Hiroshima Prefecture Japan
TEL (082) 504-7560 (main)
Mail: info@sasaki-industries.co.jp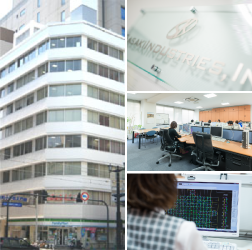 Tokyo Branch
Tokyo Branch
105-0012
2-2-1 Shiba Daimon, Minato-ku, Tokyo
Unizo Shiba Daimon 2-chome Building 6F Japan MAP
TEL (03) 5776-3513
Tohoku Branch
986-0032
1-35 kaisei Ishinomaki-city Miyagi Prefecture JapanMAP
TEL (0225) 24-6515

Iwakuni Factory
740-0002
3-13-1, Shinminato-cho, Iwakuni-City,
Yamaguchi Prefecture JapanMAP
TEL (0827) 30-3135
・ Land area 6,500m²
・ Factory area 3,500m²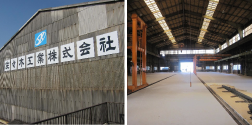 Kamidono factory
731-3664
1582, Kamidono Akiohta-cho, yamagata-gun,
Hiroshima Prefecture JapanMAP
TEL (0826) 28-2621
・ Land area 10,000m²
・ Factory area 2,800m²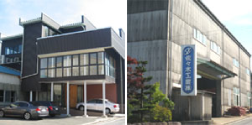 Employees
Permanent employment (50 people) / Temporary employment (30 people)
Main customer
Civil engineering
Kajima construction, Shimizu construction, Goyo construction, Taisei construction, Yoshin construction
Heavy machinery plant
Mitsubishi Heavy Industries, Ishikawajima-Harima Heavy Industries, Hitachi Zosen, Nippon Cable
General
Wood One, Nakamoto Afforestation, Hiroshima Resort